I have three main hobbies; coding, video games, and LEGO. With the first, I'm fortunate to have a flexible job that allows me to code on tons of different and varied projects every day. With the last, I've literally run out of space for the models I already have (most of which are over 2000 bricks in size). Video games, then, are really my main hobby. In the last year I've started a podcast on co-operative gaming, built a powerful gaming PC, and spent somewhere in the region of 900 hours playing games. Today I'm happy to announce a new website I've been working on dedicated to my gaming hobby; it's called Kylo Ben: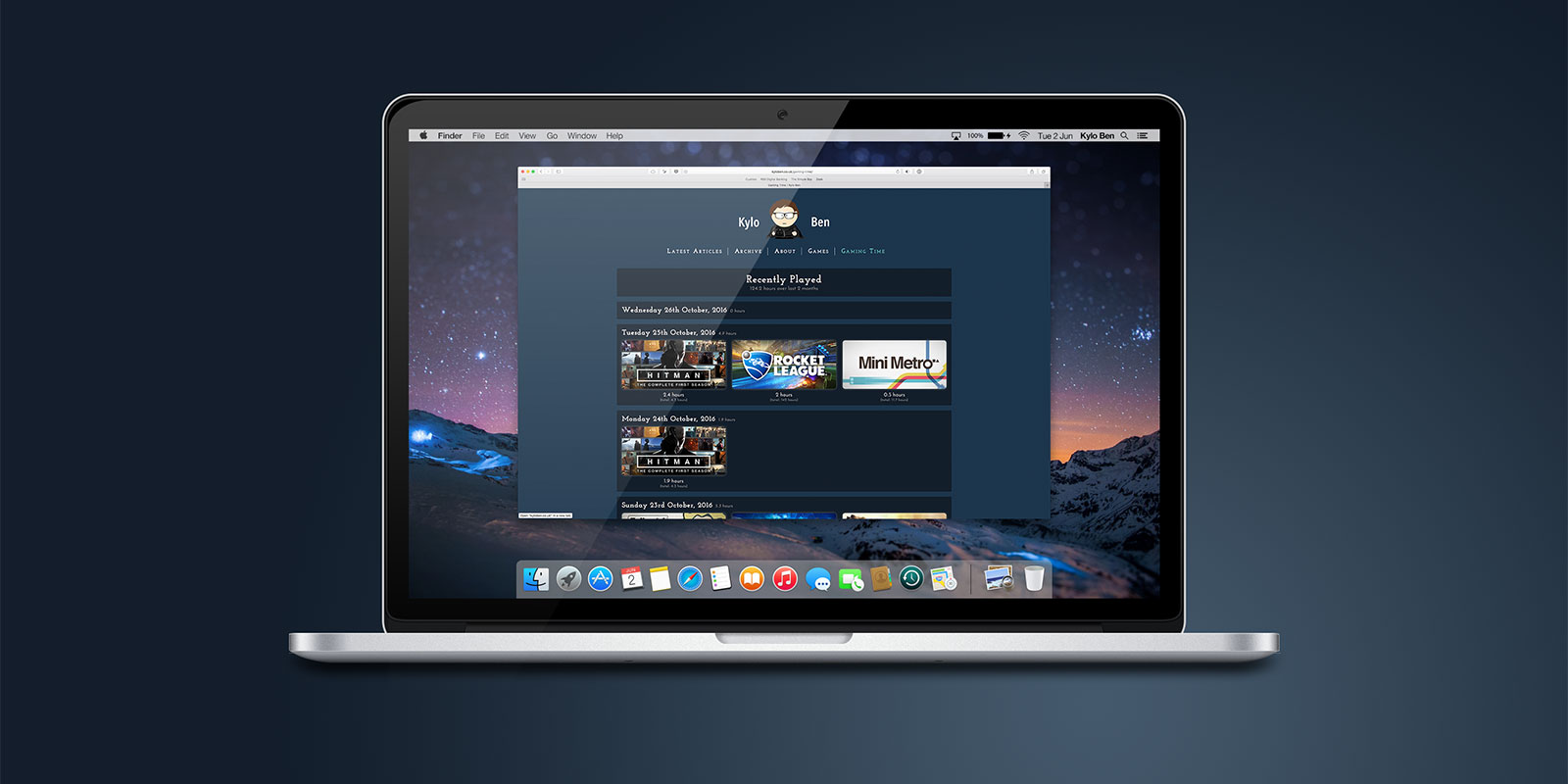 Kylo Ben is divided into several different sections:
Articles
I'm currently varying between reviews, things I'm excited about, and general thought pieces on the industry. So far, I have published:
I'm trying to write new pieces every couple of days and it has proven to be a good way to practice my writing and get some long form thoughts out that don't fit neatly into a 140 character tweet. It also means I can keep these game centric pieces away from my more work-oriented blog here at bendodson.com.
About
I've listed a few things about my current gaming setups on my about page. It details the components in my gaming PC, my current console and mobile gaming systems, and a look through the various consoles I've owned since I started gaming in 1991.
Games
I have a single page which lists all of the games I currently own on both Steam and my Xbox One. Each game has more details including purchase date, last played, total gaming time, and a short note about where I'm currently at with the game. I also list any articles related to that game for easy reference (and vice versa). For example, here is the entry for Mini Metro.
Gaming Time
This is perhaps my biggest achievement; a complete log of time spent on each game. The page updates daily and will list each game I've played over the last 2 months along with duration and a link through to more details. This is done through a combination of two custom scripts I wrote to scrape both my Steam library and Xbox Live / Windows 10 account periodically for changes. It's been fascinating for me to see exactly how long I've spent on certain games (*cough* Peggle 2 *cough*) and will allow me to easily write a regular piece on games I've played over the previous month.
I'm really excited to be writing regularly about my biggest hobby and I'm looking forward to posting frequently for the foreseeable future. I have a few extra things to announce soon including some apps and game mods so follow me on Twitter for the latest updates. Alternatively, there is an RSS feed available for Kylo Ben which will keep you up to date on any new articles. If you have any thoughts or suggestions for improvements, please get in touch.